News
Tulfra/Hampshire Luxury Rental Community in North Haledon Now 100% Leased
NORTH HALEDON, N.J., July 22, 2022 – Molly Brook on Belmont, the 180-unit luxury rental community in North Haledon, New Jersey, is now 100% leased.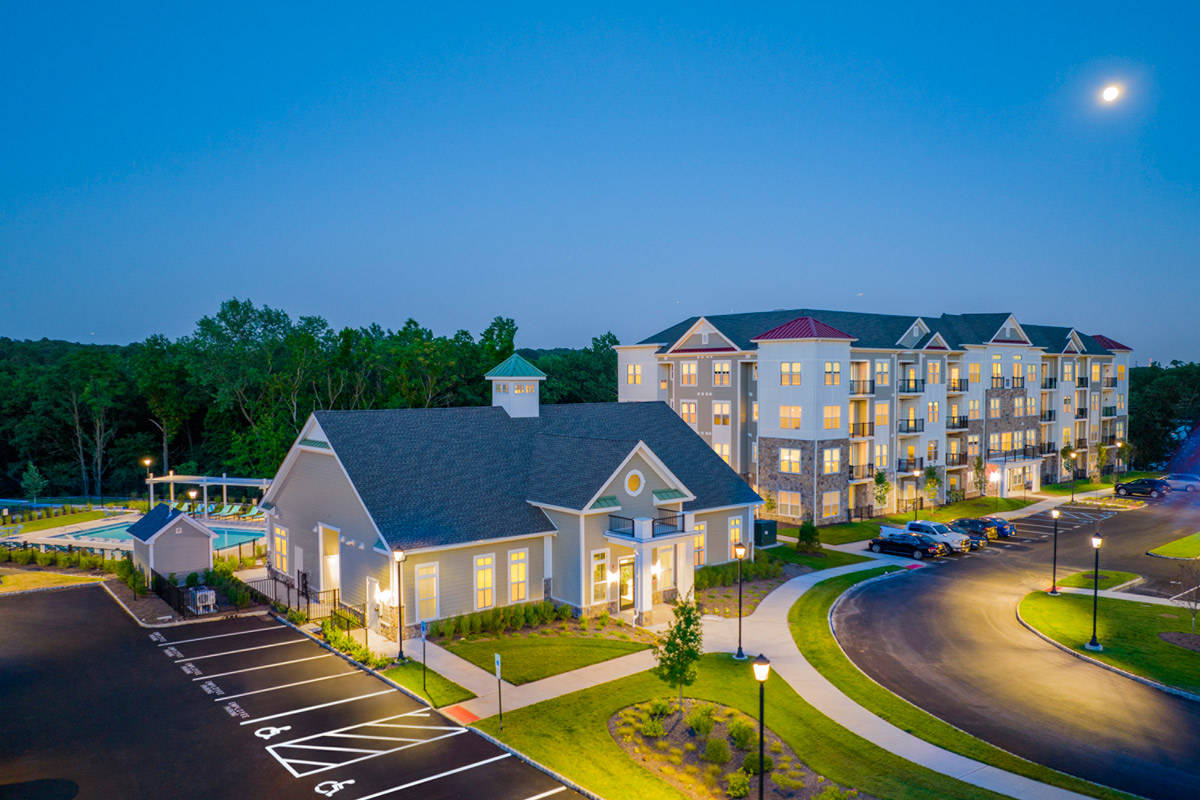 The upscale apartment community nestled among 20 acres of serene wooded space was the vision of Rochelle Park-based Tulfra Real Estate and its joint venture partner, The Hampshire Companies. The project quickly became known for its spectacular design, resort-style amenities and a suite of unique state-of-the-art outdoor features.
The partners invested 10 years developing the project, which is the centerpiece of North Haledon's redevelopment zone.
"We are proud that we have achieved our leasing goal so quickly," says Marcus Lee of Tulfra Real Estate. "It took us 10 months to reach 100% lease-up.
"When we set out to create this beautiful community and lifestyle, we knew we had something special – and that we would become the rental destination of choice in Northern New Jersey. We received accolades from all over the state for Molly Brook. We are proud that our residents embrace our product and vision, and we look forward to bringing this luxury brand to other communities throughout New Jersey," said Sonny Jumani, President and CEO of Tulfra Real Estate.
Named for the babbling brook that runs adjacent to the property, Molly Brook on Belmont draws inspiration from the borough's rich Revolutionary War history. The name Molly Brook pays homage to Dirck and Molly Van Houten, who settled alongside the brook in the late 18th century. General Marquis de Lafayette's soldiers camped alongside the brook during the Revolutionary War.
Each one-bedroom and two-bedroom home boasts high-end features like stainless steel LG appliances, luxury tile baths, spacious walk-in closets, and a stacked washer/dryer in every unit.
Outside each home is an abundance of activities perfect for entertaining, unwinding and socializing. A luxurious clubhouse anchors Molly Brook on Belmont, equipped with a private kitchen, lounge, cutting-edge fitness center and a resort-style pool. Outside the clubhouse, residents and their guests have a host of activities at their fingertips, including a scenic walking trail, BBQ grilling stations, on-site bike storage and a dog park.
"The grounds have so much to offer for entertainment, relaxation and meeting new people in the community," Jumani said. "Residents know how central these amenities are to getting to know your neighbors. When they're as appealing as the ones at Molly Brook on Belmont, the clubhouse and outdoor amenities become the place to be during downtime."
"Tulfra is committed to meeting the rising demand for Class A housing and residents' expectations for amenities that make their lives easier and comfortable," said Jumani.
About Tulfra Real Estate
Tulfra Real Estate, a Rochelle Park, N.J.- based real estate and development company has evolved into a major redeveloper for municipalities and corporations throughout New Jersey. Independently and with its institutional partners, Tulfra has owned or developed more than $1 billion in commercial and industrial properties in northern and central New Jersey over four decades. Tulfra has become a leader in helping communities and businesses maximize the development and income potential of their properties. Tulfra works with municipalities to transform underutilized or non-performing assets into successful projects in all asset classes, including commercial, hotels, healthcare and residential, that bring jobs and tax revenue to the community.
About The Hampshire Companies
The Hampshire Companies is a full service, private real estate investment firm with assets valued at more than $2.3 billion based in Morristown, N.J. The Hampshire Companies is a vibrant, dynamic organization that combines creative vision and superior execution, thereby enabling it to create and enhance value in real estate investments. Additional information on The Hampshire Companies is available online at www.hampshire.com.