News
The Delford Luxury Apartments Tops Out in Rochelle Park, N.J.
Just steps from the Westfield Garden State Plaza, the luxury rental building will be ready for occupancy in Spring 2024
ROCHELLE PARK, N.J., June 20, 2023 — On-site concierge, a spectacular outdoor pool, a beautifully landscaped rooftop terrace: With an unbeatable location and state-of-the-art amenities, The Delford at Village Center is set to bring an upscale oasis to the heart of Bergen County. And future residents can soon plan their move to the brand-new luxury rental building, planned for completion in Spring 2024.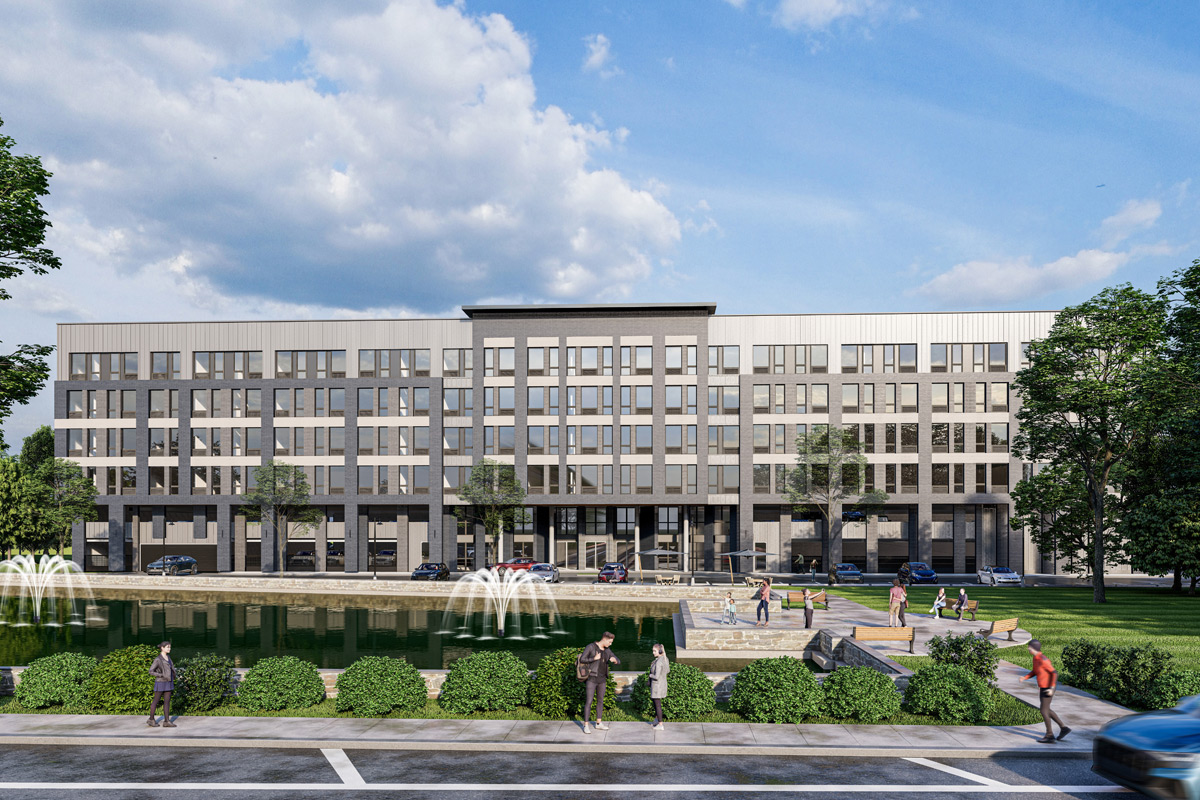 Hundreds of prospects have already signed-up to The Delford's VIP list, ensuring that this stunning project is poised to evolve into a successful, flourishing community.
The Delford, is a six-story, 160-unit multifamily development of 1-bedroom and 2-bedroom homes located at 120 W. Passaic Street in Rochelle Park, New Jersey. The Delford is part of a larger multiuse redevelopment project spearheaded by Tulfra Real Estate, also located in the township. The real estate developers broke ground on the project in December 2022, marking the residential development stage of a larger mixed-use project called Village Center.
Living is designed to be easy at The Delford, complete with an on-site concierge, a covered, two-story parking garage, bike storage, and a monitored mailroom with package lockers. Sleek furnishings and accents will welcome residents as they walk into the grand lobby, setting the tone for the high-end appliances and modern finishes within each unit.
Residents and their guests will be able to enjoy a laid-back resident lounge with other community members, a picturesque rooftop terrace, and a swimming pool complete with a lounging deck and BBQ grills. Residents can stay in shape at the on-site fitness center, working out to poolside views.
"When people move, they're looking for so much more than an apartment building; they're looking for a community," says Marcus Lee, Tulfra's Asset Manager.
"With all the amenities and common spaces at The Delford, our residents will find endless opportunities to build connections without leaving the building," he says.
The Delford at Village Center is set to be a commuter's dream. Just one block from State Route 17, and a few blocks from Garden State Parkway's Exit 160, it will allow future residents to easily get to major points throughout northern New Jersey in minutes. The George Washington Bridge is a short 15-minute drive, while several bus routes and the jitney take riders directly into New York City.
"There's no better place than The Delford if you want driving to any major point in New Jersey, Manhattan, or Rockland County to be a breeze," says Lee. "Nearly every major highway that crosses through New Jersey is an incredibly short drive from The Delford, great for commuters and resident visitors alike."
Shopping lovers can't get closer to the action than they will at The Delford, which is in Westfield Garden State Plaza's backyard. This premier shopping destination, with 300 stores alongside dining and entertainment, is regularly ranked among the best malls in the United States. And that's just one retail center in the neighborhood — the greater Rochelle Park area, which is another well-known shopping destination, is also within a few minutes' drive from The Delford.
"The Delford will truly be at the center of it all, with incredibly easy access to fine dining, family entertainment, and great retailers," said Sonny Jumani, President and CEO of Tulfra.
With its state-of-the-art amenities, beautiful grounds, and prime location, Jumani knows that The Delford is set to be New Jersey's premiere rental destination.
Located at a former AT&T data storage site, The Delford will be joined by 8,000 square feet of retail space. A public park extending from Sprout Brook to a landscaped pond is also planned for the site. A 113,000-square-foot self-storage facility on-site opened in 2020.
"We're building community at The Delford, and we can't wait to welcome you," Jumani said.
For more information, and to sign up for updates and offers, visit www.TheDelford.com or call 1-800-DELFORD.
About Tulfra Real Estate
Tulfra Real Estate, a Rochelle Park, New Jersey-based real estate and development company, has evolved into a major redeveloper for municipalities and corporations throughout New Jersey. Independently and with its institutional partners, Tulfra has owned or developed more than $1 billion in commercial and industrial properties in northern and central New Jersey over four decades. Tulfra has become a leader in helping communities and businesses maximize the development and income potential of their properties. Tulfra works with municipalities to transform underutilized, or nonperforming assets into successful projects in all asset classes including commercial, hotels, healthcare and residential, that bring jobs and tax revenue to the community.
Tulfra Real Estate is the developer behind other successful luxury residential developments in New Jersey.