News
Molly Brook On Belmont, North Haledon, N.J., Launches Leasing
New 180-unit luxury apartment community is "where your story begins"
NORTH HALEDON, N.J. April 26, 2021 – Molly Brook on Belmont, a brand-new luxury apartment community, is coming to North Haledon, New Jersey, and has officially launched leasing.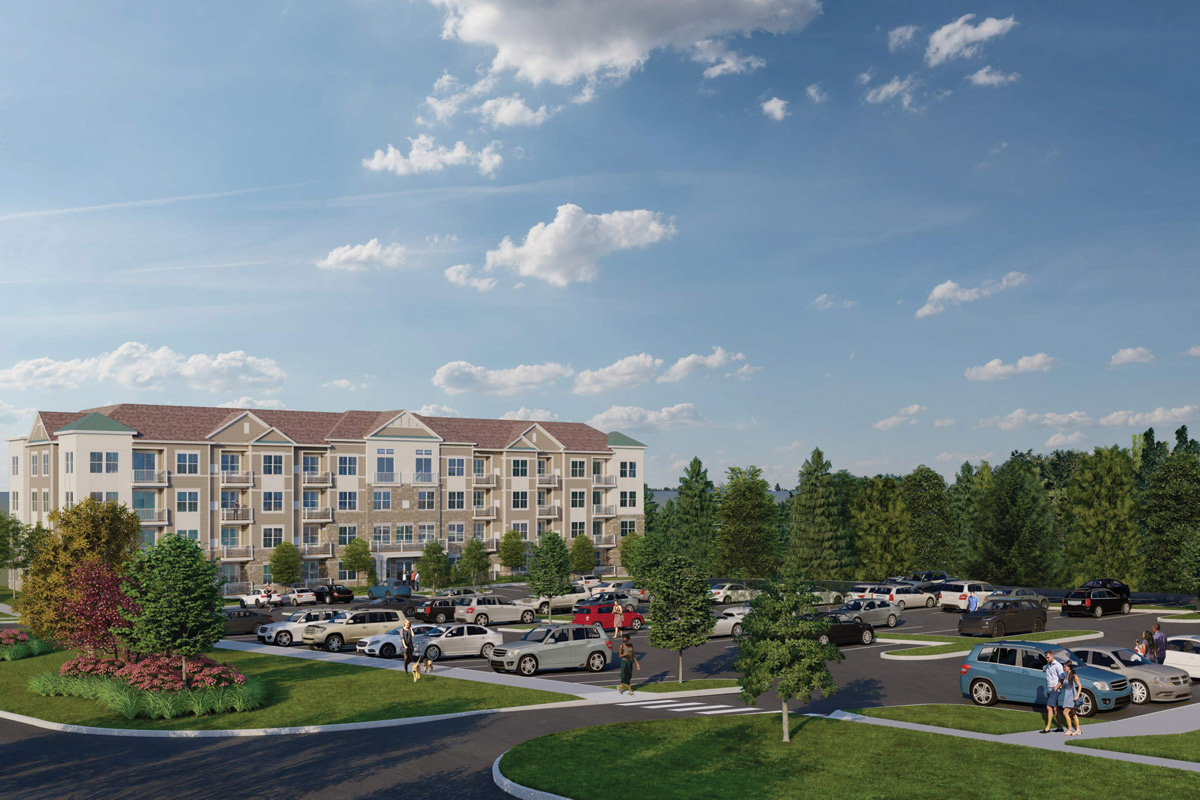 The 180-unit development, currently under construction at 920 Belmont Avenue, will be ready for occupancy on August 1.
Surrounded by 20 serene acres of beautifully preserved open space, Molly Brook on Belmont is "where your story begins," offering endless opportunities for working, entertainment, recreation, and community building.
Situated right alongside the borough's Molly Brook, the community is named as an homage to Dirck and Molly Van Houten, among the first settlers in the area. Their homestead, established in the late 18th century, is famous for housing General Lafayette's soldiers during the Revolutionary War. This brook ran right through the family's property, inspiring the name Molly Ann's Brook.
"We setout to create a modern, contemporary lifestyle and raise the bar for suburban apartment living," said Sonny Jumani, president of Rochelle-Park-based Tulfra Real Estate, which together with The Hampshire Companies, is developing the luxury residential community.
Each one-bedroom and two-bedroom apartment home at Molly Brook boasts fine furnishings and all the conveniences that residents have come to expect: high-end stainless steel LG appliances, granite kitchen counters, and a number of other in-home designer features, including luxury tile baths, hardwood-style flooring, and a stacked washer/dryer in every unit. Large bedrooms include spacious walk-in closets, and select units offer a private terrace.
"Modern and intuitive layouts lend themselves to both work and play, with plenty of space for storage, entertaining, and living everyday life in comfort," Jumani said.
Outside each apartment home is a world of activities to keep residents and their guests entertained all year round. Central to the complex is a luxurious clubhouse with a private kitchen and lounge, a resort-style swimming pool,and a state-of-the-art fitness center.
For lovers of the outdoors, Molly Brook boasts a scenic walking trail and serene outdoor green space. On-site bike storage makes it easy for residents to bike on the trails and to shops and restaurants throughout North Haledon. An on-site dog park creates a dedicated space for pet lovers, and the BBQ grilling stations are perfect for entertaining.
"You don't need to leave Molly Brook to enjoy your downtime," Jumani said, "but when you want to shop and dine and head out to area conveniences, everything is so close to home."
Molly Brook is easily accessible to Routes 208 and 46 and Interstates 80 and 287, and it is also close to major centers of commerce, including the Garden State Plaza, Willowbrook Mall, the Gateway Shopping Center, and the Preakness Shopping Center. William Paterson University is a few blocks away, making Molly Brook an ideal location for students and staff alike. Nearby outdoor recreation includes the High Mountain Park Preserve, Bridal Veil Falls, the Franklin Lakes Nature Preserve, and the North Jersey Country Club golf course.
"This community has something to offer for everyone," Jumani said. "Molly Brook is centrally located for commuters, has work-from-home conveniences, and offers the perfect space for all lifestyles."
"There is no shortage of exciting and inspiring activities within steps of your front door–it's what makes North Haledon a great place to live," Jumani said.
The leasing and management company for Molly Brook is The Bozzuto Group, named the top property management company in the United States.
"We are proud to partner with so many visionary companies that played a major role in bringing our community to life."
"Molly Brook is a crown jewel in North Haledon's broader vision for the redevelopment of Belmont Avenue, connecting this borough's rich past to its exciting future," Jumani said. "We invite you to come see the possibilities."
One-bedroom apartment homes start at $2,184, while two-bedroom apartment homes start at $2,900. For leasing information, contact the leasing professionals at Molly Brook on Belmont at (833) 340-7685, or visit www.livemollybrook.com.