News
Beautification Phase Begins at Village Center of Rochelle Park
Upgrades to retention pond and landscaping are planned
ROCHELLE PARK, N.J., May 06, 2021 – Tulfra Real Estate, the real estate and development firm behind Village Center of Rochelle Park, announced today that the project has entered the next phase of development focused on beautification of the grounds.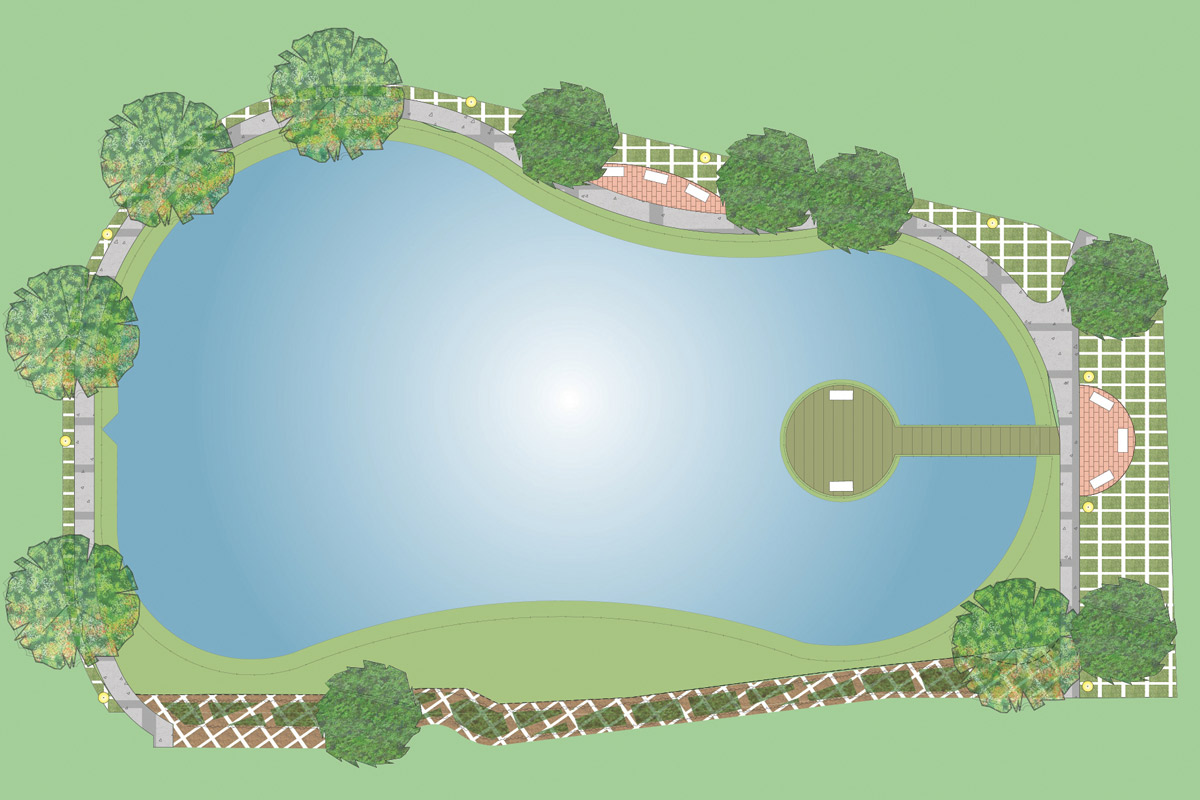 The 7.5-acre mixed-use property at 120 West Passaic Street will undergo a series of improvements to its on-site retention pond, located on the southwest corner of the property, as well as extensive landscaping throughout.
"This significant next stage of development will transform the old retention pond into a public park — a beautiful setting to walk, get inspired and significantly enhance the quality of life for all residents of the community," said Sonny Jumani, president and partner of Tulfra Real Estate. "We are eagerly looking forward to seeing these renovations come to fruition."
According to Jumani, plans for retention pond renovation include dredging the pond, aerating turf around the pond and integrating extensive landscaping designed to beautify the pond, and help maintain the integrity of the pond walls.
"Retention ponds have a very important purpose managing stormwater to prevent flooding – but they can also be a beautiful respite on a lunch break or for an after-dinner stroll," Jumani said. "These improvements are designed to do both: Ensure the pond continues to do its job while offering serene open space for visitors and residents of Village Center of Rochelle Park to enjoy."
According to Jumani, landscaping plans call for planting trees, grass, shrubbery, and plants alongside the areas of the property that face West Passaic Street and throughout designated open space between the new apartment complex and Sprout Brook.
Tulfra Real Estate acquired the property, a former AT&T data site, in late 2018. Plans underway at Village Center of Rochelle Park include construction of 8,000 square feet of build-to-suit retail space and a 160-unit luxury apartment complex. A 100,000 square-foot, 816-unit self-storage facility was recently completed and is now open.
"We are now actively searching for the right mix of retail tenants that will complement the project," adds Jumani. "There are two pads that offer great visibility to the main road."
Located directly across the street from the Westfield Garden State Plaza, Village Center of Rochelle Park is situated in one of the most trafficked areas of Bergen County, attracting more than 25 million visitors annually. With more than 225,000 residents within three miles, it is one of the more densely populated areas as well, so retailers can tap into a large, nearby talent pool while staffing their stores and restaurants. Village Center boasts immediate access to Routes 17, 4, and 208, I-80, and the Garden State Parkway, and the development is only 15 minutes from New York City.
"You can't get a more perfect location than Village Center," Jumani said.
"Village Center offers housing, shopping, and dining, all in one place that's minutes from everything you could possibly need," Jumani said.
The project is one of several Tulfra redevelopment projects underway, including the 20-acre, 180-unit Molly Brook on Belmont rental apartment complex in North Haledon, New Jersey and the transformation of the former Roche Diagnostics property in Belleville, New Jersey, into a mixed-use development including residential, office, hotel and retail.
For more information visit www.villagecenterofrochellepark.com
About Tulfra Real Estate
Tulfra Real Estate, a Rochelle Park, New Jersey-based real estate and development company has evolved into a major redeveloper for municipalities and corporations throughout New Jersey. Independently and with its institutional partners, Tulfra has owned or developed more than $1 billion in commercial and industrial properties in northern and central New Jersey over four decades. Tulfra has become a leader in helping communities and businesses maximize the development and income potential of their properties. Tulfra works with municipalities to transform underutilized or non-performing assets into successful projects in all asset classes including commercial, hotels, healthcare and residential that bring jobs and tax revenue to the community. It also helps corporations by using its experience and attention to detail in redeveloping properties into sites that meet the demands of 21st-century businesses.